Donors:
Thank you for your generous gift. We are thrilled to have your support. You truly make the difference for us, and we are extremely grateful!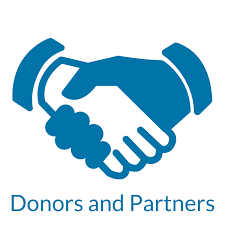 Volunteers, parents, Richmond VA and surrounding counties, and their families.

(The Bauer Family) Mr. Michael & Mrs. Rachel Bauer (December 2021 and 2022) Thanks to Michael and Rachel Bauer, we have a new office!
The Cheesecake Factory Being a part of the communities in which we operate, we understand that our outstanding service and hospitality does not stop with serving what is on our menu. This is why we continue to extend our hospitality beyond the walls of our restaurants and support local non-profits and community organizations with nourishing meals, helping hands, and financial support.
Children's Museum of Richmond The Children's Museum is pleased to be able to support non-profit organizations with their fundraising. Mission: We inspire growth in all children by engaging families in learning through play
Chipotle Community Donations Chipotle's Community Roots program is dedicated to giving back to local communities and organizations through in-kind event donations for your upcoming silent auction, raffle or fundraiser.
Target Community Engagement Community has always been at the core of who we are. Target is proud to partner with organizations to meet the needs of our communities.
Sheetz Charities Being connected in the communities in which Sheetz operates is an important part of the Sheetz DNA
Ross Stores Community Giving The Ross Store-Based Giving Program provides small grants to federal tax-exempt 501(c)(3) organizations, schools, and government programs serving a community within 25 miles of a Ross Dress for Less or dd's DISCOUNTS Store.
Dollar General Donation Dollar General is a chain of variety stores that offer an assortment of the most popular brands at everyday low prices. They have been committed to their mission of "Serving Others" since the company's founding in 1939.
Costco Wholesale Costco Charitable Contributions Costco Wholesale's primary charitable efforts specifically focus on programs supporting children, education, and health and human services in the communities where we do business.
Meta/Facebook Online Fundraiser Meta Platforms, Inc. To make it easier for you and your community to raise money on Facebook and Instagram, we've built free tools to help you collect donations and enable supporters to fundraise for your nonprofit. Nonprofits using Meta Pay to process donations pay no fee — 100% of the donations go to the charity.
Computer Recycling of Virginia, Inc. (CRVA) Founded in February 2001, the mission of Computer Recycling of Virginia, Inc. (CRVA) is to place educationally-useful equipment into Virginia's schools and non-profit organizations free of charge, while promoting electronics recycling throughout the Commonwealth of Virginia.
Wawa Community Giving Program WaWa Community Care Among the founding principles of Wawa, one clearly stands out: our ongoing commitment to giving back to the communities where we do business.
Dunkin Donuts Outer Banks Dunkin Donuts Charitable Giving Restaurant Services of the Outer Banks, LLC is a franchisee of Dunkin' Brands, Inc. which owns and operates the majority of Dunkin' and Baskin Robbins Stores in N. East North Carolina, Chesapeake,The Peninsula and Richmond VA. The company was founded in 2007 as a closely held family business based out of the Outer Banks of North Carolina.
Wendy's Wendy's Supporting the Community Giving back and taking care of people in the communities we serve is a core part of what Wendy's was founded on—and is something we continue to prioritize more than 50 years later .
Publix Publix Community Giving We support organizations that focus on youth, education, reducing hunger, and alleviating homelessness.
CVS Health CVS Health Community Support Our commitment to building healthier communities is reflected in how we give back to our communities and to one another.
Aetna Building healthy communities. The health and well-being of the people in our communities are vital to us. We believe that healthy communities lead to a healthier world.
UnitedHealthcare UnitedHealthcare offers health insurance plans to meet the needs of individuals and employers. We offer dental, vision, and much other insurance plans to help keep you and your family healthy.
Magellan of VA – We help Medallion 4.0, Commonwealth Coordinated Care Plus, and Medicaid Expansion members live a vibrant and healthy life. YOU and your needs come first in everything we do.
EZETT Youth & Family Services was founded upon a strong desire to transform lives, be mediators, and advocate for individuals lacking the tools needed to function in all domains of life appropriately.
SnagAJob is an online employment website specializing in the hourly marketplace.
Bridge to Well Being Programs Inspire Individuals By Promoting Personal, Financial, and Community Health.
The Literacy Lab We believe that all children deserve to learn how to read and that literacy is a human right. We reflect the urgency of this issue in our mission and core values.
Starbucks Community Stores – Our stores, partners, and relationships with local nonprofit organizations are helping create new pathways to opportunity for young people in communities around the world.
Kroger Community Rewards – Kroger is committed to helping our communities grow and prosper.
Benevity Causes Benevity is the global leader in online workplace giving, matching, volunteering, and integrated grant management solutions. Some of the world's most iconic brands rely on Benevity's award-winning solutions to power their Goodness Programs and corporate philanthropy, helping them attract, retain and engage today's workers by connecting people personally to causes that matter to them.
AMERICAN ONLINE GIVING FOUNDATION – Our mission is to connect charities with the world's largest companies and their employees, using technology to transform the way they receive funds and freeing up their time and resources to focus on delivering community impact.
PayPal Giving Fund – Fueled by a fundamental belief that having access to financial services creates opportunity, PayPal (NASDAQ: PYPL) is committed to democratizing financial services and empowering people and businesses to join and thrive in the global economy.
Community Foundation for a Greater Richmond is a leading partner and advocate for philanthropy and service in the Richmond region. Founded in 1968, we have built a strong legacy of helping people and institutions give back with passion and purpose.
Local Community Grants Walmart Community Grant Program – Walmart believes in operating globally and giving back locally, impacting the neighborhoods where we live and work. Through the Community Grant Program, our associates are proud to support the needs of their communities by providing grants to local organizations.
Walmart Community Grant Facility #2821, Walmart Community Grant Facility #3885
Walmart Community Grant Facility #2295, Walmart Community Grant Facility #1525 (multiple donations 2020 and 2022)
Walmart Community Grant Facility #1565, Walmart Community Grant Facility #6023 (multiple donations 2019 and 2020)
Walmart Community Grant Facility #7016, Walmart Community Grant Facility #5731
Walmart Community Grant Facility #1969, Walmart Community Grant Facility #6343
Walmart Community Grant Facility #7032
Charitable Contributions | M&T Bank The M&T Charitable Foundation strives to strengthen our communities by supporting a diverse range of civic, cultural, health, and human service organizations through grants and employee volunteerism in-kind services.
(20+) Cycle Kings Richmond VA | Facebook Cycle Kings Motorcycle Club Inc. (George Edwards)
Partners:
Thanks so much for all your hard work. We wouldn't have gotten here without you.
Moving Forward Agency – MFA WorksTM is a project of MFA Consulting Services LLC and Moving Forward Agency. The MFA Works Staff are focused on helping our Clients reach their Career Goals by acquiring talented people who are motivated to become successful!
Communities in Schools – At Communities In Schools® (CIS®), we believe that every student, regardless of race, gender, ability, zip code, or socioeconomic background has what they need to realize their full potential in school and beyond. We walk by their side, in their communities, to challenge the systems and barriers that stand between them and their success in life.
VIRGINIA CAREER WORKS CAPITAL REGION -The Capital Region Workforce Development Board (CRWDB). The CRWDB governs three workforce center locations in the Capital region that exist to service local businesses and job seekers and provide them with the resources necessary to succeed.
Henrico County Public Library – Fairfield moved to its new location, a 10-acre site at the southeast corner of Laburnum Avenue and Watts Lane, in October 2019. The library replaced an aging facility originally opened in 1976. The new Fairfield Area Library is a two-story, 44,803 sq. foot facility with parking for 220 vehicles.
Canva for Nonprofits The design tool made with nonprofits in mind. Discover the easy way to create high-impact social media graphics and marketing m
Henrico Adult Education The mission of the Adult Education Program is to provide diverse educational opportunities that will assist students in acquiring the skills and knowledge that will lead to further education, employment and personal success.
Grammarly Millions trust Grammarly's free writing app to make their online writing clear and effective.
GreatNonprofits is the leading platform for community-sourced stories about nonprofits. These stories are submitted by people who know you best — your clients, donors, volunteers, and others — all those who have experienced the impact of nonprofit work up close!
NAEIR We support communities by collecting merchandise donations from generous American corporations and giving it to non-profits like you.
PCs for People Making a Difference for you is in partnership with PCs for People, who provides refurbished computers to eligible customers for affordable prices. Since 1998, PCs for People has been a driving force behind digital inclusion efforts across the US. As a 501(c)(3) non-profit organization, their mission is to provide a bridge across the digital divide that offers employment and educational opportunities to low-income individuals, families with children, and those with disabilities. PCs for People also provide low-cost high-speed internet solutions.
Debugging Out Here at DebuggingOut, we strive to help bring technology education to underserved students in the Greater Richmond area. Our organization provides tutoring in computer sciences and math subjects and runs workshops to increase technology literacy.
Earn at RVA To encourage elementary, middle, and high school students to contribute to the community as well as take initiative of their own achievement. At EARN, our goal is to fill the achievement gap fast to make an impact that lasts.
Good 360 Good360's mission is to close the need gap. As the global leader in product philanthropy and purposeful giving, we partner with some of the world's largest corporations to source essential goods and distribute them through our network of diverse nonprofits, supporting people in need to open opportunity for all.
Digital Lift Our Nonprofits Program includes monday.com Work OS, the easy-to-use nonprofit platform that streamlines all your operations in one place, plus additional resources and support dedicated to helping nonprofits thrive.
Give Lively We were founded by philanthropists in 2015 with the sole purpose of giving away what we build. Our founders cover the cost of running our business so that we never have to charge nonprofits for use of our fundraising platform.
Our overall aim is to reduce nonprofits' reliance on for-profit tech.
TechSoup A nonprofit focused on connecting your nonprofit, charity, or public library with tech products and services.
Green Standards When we started our business more than a decade ago, office decommissioning was always an afterthought. Green Standards has designed the system and done the work to make workplace change benefit companies and communities.
Mobile Citizen Mobile Citizen, a Voqal project, provides low-cost mobile internet with unlimited data plans exclusively to nonprofit organizations, educational entities, libraries and social welfare agencies. Championed by a national collaboration of EBS (Educational Broadband Service) licensees, Mobile Citizen's internet service is available nationwide. We believe that making internet access available at an affordable price advances social equity.
National Cristina Foundation National Cristina Foundation is a private foundation dedicated to creating positive outcomes for future generations. The Foundation was a pioneer in the concept of technology reuse when it was established in 1984 and has actively worked to eliminate the digital divide over the many years since. The Foundation promotes the practice of technology reuse in service of developing and supporting human potential, advocating that no person should be left behind because of the challenges of the digital divide
Digitunity The mission of Digitunity is to eliminate the technology gap, through and with a network of stakeholders and solutions, so that everyone can thrive in a digitally connected society.
Connect VA is a virtual nonprofit and civic hub that provides information-sharing tools and resources to empower individuals and advance organizations.
Network for Good Network for Good helps small nonprofits cultivate donor relationships and advance their missions with simple, smart fundraising software, personal coaching, and online resources.
Ad Grants Share your cause with the world. Let Google Ads help fuel your nonprofit's mission – Google Ads search ads appear next to Google search results when people search for nonprofits like yours. And it includes powerful tools to help you create, target and optimize your campaigns. So you'll always have complete control of your campaigns.
Microsoft 365 for Nonprofits Explore how Microsoft 365 with Microsoft Teams can help your nonprofit improve cybersecurity, reduce costs, and empower staff and volunteers to work from anywhere.
Black History Museum and Cultural Center Virginia: The museum seeks to become a permanent repository for visual, oral and written records and artifacts commemorating the lives and accomplishments of Blacks in Virginia.
GiveRichmond-Guide Star is an online searchable database that provides programmatic, financial, governance and management information.
Hands on Greater Richmond supports an inspired network of passionate people and powerful causes to make meaningful change in the community.
Open Door Resource Center is dedicated to providing veterans with the tools for self-sufficiency.
Department of General Services An agency that streamlines the surplus property purchasing process, to make buying from the Commonwealth as easy and convenient as possible.
Senior Navigator An organization dedicated to finding programs, services and information helpful to seniors, caregivers, baby boomers and their families.
Senior Connections Senior Connections, The Capital Area Agency on Aging is a private nonprofit 501(c)(3) organization established in 1973. Senior Connections is a member of a network of approximately 700 Area Agencies on Aging (AAAs) with 25 located in the Commonwealth of Virginia.
BlackTop Kings & Queens Sports Academy(BTKQS)
"Coaching Today's Youth to Become Coach-able."
Nursing Home Abuse Support an organization that provides the most up-to-date statistics and information relating to nursing home abuse.
Universal Services of America, Inc. – Universal Services offers various types of insurance products and services for personal and business needs
2-1-1 Virginia Virginia Get Connected, Get Answers. – 2-1-1 is an easy to remember phone number connecting people with free information on available community services. When you dial 2-1-1, a trained professional listens to your situation and suggests sources of help using one of Virginia's largest databases of health and human services.
The Gee Law Firm Over 30 years of practicing personal injury law in Virginia has strengthened our commitment to excellence. Our involvement in, and support of, the communities we serve is unmatched. At the Gee Law Firm, we strive to be a positive influence and a pillar of confidence for individuals seeking services for their personal injury needs as well as those who live and work in our communities.
The National Alliance of Postal and Federal Employees – The National Alliance is a union of people who serve the Nation as rank and file employees in the federal and or postal service. The motto of the Alliance "Ad Mortem Fidelis" (Faithful unto Death) is fulfilled by the Union in all its activities for its members.
Supreme Flea Market We sell new and used items at affordable prices… We are always seeking New Vendors inquire today! 30 different shops with a wide variety of items to choose from… Men~Women~Children's clothing (New and Gently used)Shoes and more .
Metropolitan Driving School was founded in 1976 by Bradford Jordan. His vision was to offer the Metro-Richmond area a driving school that provides a clean, safe learning environment while delivering the best in teaching. Our driving school has maintained this standard throughout the years. We are experts on teaching confidence, defensiveness, and alertness. A Metropolitan Driving School puts you first.
Clarissa Allen – Pink Zebra Home Pink Zebra changes lives through our business opportunity and ability to create personal fragrance and décor featuring easily blendable, premium wax Sprinkles and body-safe liquid Soaks.
Revelations Media, LLC – Revelations Media is here to help you with customized marketing and promotional products. Purchase as gifts for your family, friends, school, church, groups, clubs, business, or organization fundraisers. One idea mixed with inspiration and millions of options can create the products of your dreams.
NORVELLE SHOE REPAIR – Shoe Repair – 2928 North Ave, Richmond, VA – Phone Number (yelp.com) Norvelle's Shoe Repair specializes in all types of leather repair, full soles, half soles and heels. The owner Norvelle Taylor, has over 30 years of boot and shoe repair experience. Come in and have your shoes shined as well. We even cut keys!
United Methodist Family Services UMFS is an unwavering champion for high-risk children and families, collaborating with communities to help them reach their full potential.
Galaxy of Stars is a free service provided by Hidden Star. It is a large, welcoming community of minority and women entrepreneurs and business owners. It is a safe place to get help, give help, meet friends, and support each other in your struggle to succeed in business.
Federal Reserve Bank Volunteering in Our Communities. It is a large, welcoming community of minority and women entrepreneurs and business owners. As a business, we focus on serving the needs of neighbors in our District, so it's no surprise that giving back to our communities is an important part of our employee experience. At the Richmond Fed, we're committed to strengthening the economy and our communities – and we take that commitment seriously. Giving back and making a difference in our communities is important to our employees.
Catchafire Catchafire was founded in 2010 with the goal of driving positive world change through the giving of time and talent, for the benefit of the nonprofit community we serve. We are a community of individuals seeking to support and strengthen the social good sector. We do this by facilitating connections between professionals who want to donate their time and talent through virtual volunteering with nonprofits who need their skills.
Robins Foundation Lora M. and E. Claiborne Robins were compassionate, empathetic and accessible leaders who valued integrity, ethical practices and generosity. As thoughtful philanthropists and visionaries, they used their wealth to improve the quality of life for residents of the Richmond community. We want the Richmond region to be a vibrant and dynamic community, attractive to families and businesses through a strong nonprofit sector and improved educational opportunities which can break the cycles of intergenerational poverty vexing our region.
GoSchoolBox GoSchoolBox's secure platform connects K-12 students with academic specialists, helps teachers prescribe critical after-school support, and gives administrators the tools to assess progress — all in one place.
Office on Aging & Persons with Disabilities The primary goal of the Office on Aging & Persons with Disabilities (OAPD) is to promote independence and enhance the dignity of Richmond's aging and disabled populations by connecting these individuals with the necessary resources to meet their needs. The office targets older adults age 55 and older and persons with physical and sensory disabilities